In the Spotlight - GT Bunning & Sons Ltd New Paint Plant Conveyor
5th July 2021
Working closely with the engineers at GT Bunning and other associated contractors, Amber Industries Ltd designed a system layout for the new finishing line, utilising their industry proven, heavy duty Autotrack 500 overhead Power & Free conveyor system. The design brief required the conveyor system to handle components up to 6500kg in weight, 9mtrs in length and 2.5mtrs high with an easily adjustable raise/lower feature, for ease of painting by the booth operators and safe product un-loading.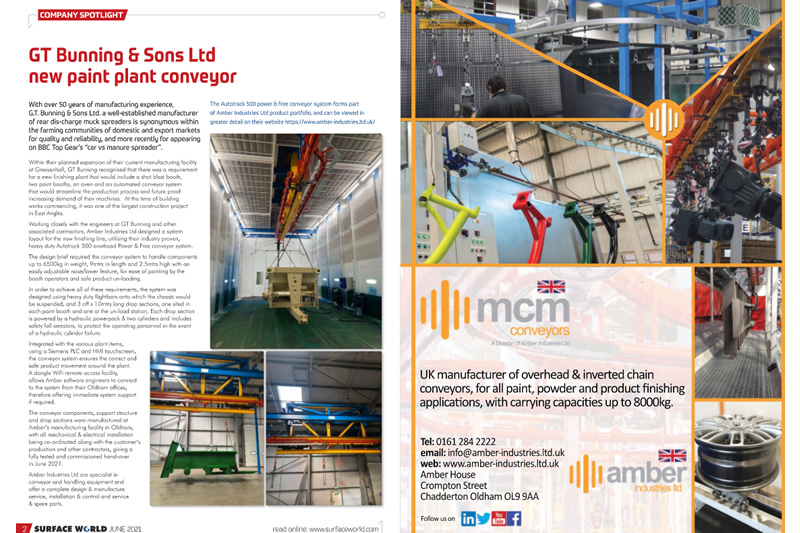 In order to achieve all of these requirements, the system was designed using heavy duty flightbars onto which the chassis would be suspended, and 3 off x 10mtrs long drop sections, one sited in each paint booth and one at the un-load station. Each drop section is powered by a hydraulic powerpack & two cylinders and includes safety fall arrestors, to protect the operating personnel in the event of a hydraulic cylinder failure.
Integrated with the various plant items, using a Siemens PLC and HMI touchscreen, the conveyor system ensures the correct and safe product movement around the plant. A dongle WiFi remote access facility, allows Amber software engineers to connect to the system from their Oldham offices, therefore offering immediate system support if required.
The conveyor components, support structure and drop sections were manufactured at Amber's manufacturing facility in Oldham, with all mechanical & electrical installation being coordinated along with the customer's production and other contractors, giving a fully tested and commissioned hand-over in June 2021. Amber Industries Ltd are specialists in conveyor and handling equipment and offer a complete design & manufacture service, installation & control and service & spare parts.
Other Articles
4th September 2023
1st August 2023
17th July 2023
7th June 2023
4th May 2023
2nd April 2023
1st March 2023
1st February 2023
9th January 2023
9th December 2022