Amber Automation Level & Incline Belt Conveyors
Belt conveyors are mainly used for the movement of light to medium weight goods. They can accommodate irregular shaped and semi-solid items such as packages, bags or sacks containing powder or granular material, bundles or stacks of flexible material and single items of variable shape and size.
Unlike powered roller conveyors belt conveyors do not require the load to have a flat underside in order to gain traction. They are particularly useful for carrying small items that would otherwise fall between the gaps of a roller conveyor, plus their smooth movement is gentle on fragile products and reduces the likelihood of them toppling over.|
Belt conveyors do however have their limitations in that above certain weights they will stop altogether and also belts can be susceptible to damage from sharp and abrasive loads.
Amber Automation's portfolio of belt conveyors includes level, incline and decline straight conveyors, swan neck conveyors and level and spiral curved conveyors.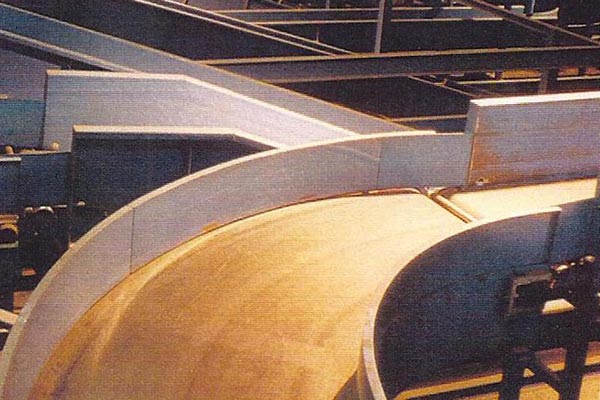 ---
Level Straight Belt Conveyors
Level straight belt conveyors can provide an alternative to powered roller conveyors by using a PVC or similar belt for the simple transportation of a wide variety of items.
They can be driven by a geared motor unit or for lighter duties by a motorised drum/roller.
The belt typically runs on a slider bed, however for very long conveyors or where very high speeds are required the belt may run on top of a series of rollers. This reduces the overall amount of friction on the underside of the belt.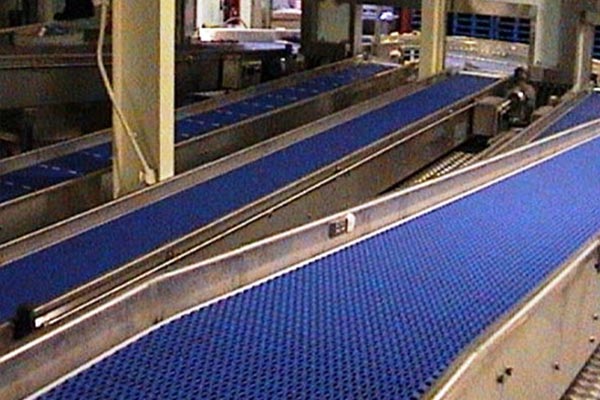 Within our range of bely conveyors, options include:
Light/medium duty up to 50Kg/m, Heavy duty to 200Kg/m and above
Straight horizontal conveyors, Stright inclined conveyors, Horizontal and spiral belt curves
Drives: Drum drives. End (shaft Mounted) drives, Underslung centre drives
Dimensions: various widths and lengths available to suit
Robust and durable design and construction
---
Incline/Decline Straight Belt Conveyors
Incline / Decline straight belt conveyors are usually used for moving goods between floors within a building, e.g. onto a mezzanine floor.
They provide a lower cost alternative to a goods lift often with the added benefit of a higher throughput.
The use of 'rough top' or 'grip face' belts enables traction between the belt and the goods to be maintained on a slope.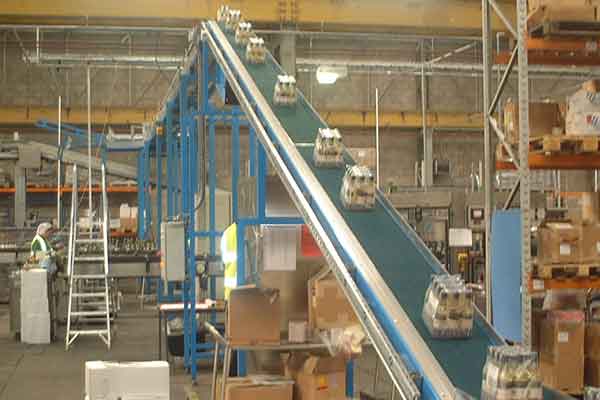 ---
Mezzanine Floor Incline Conveyors
Mezzanine floor incline conveyors are used for moving products between floors within a building. They provide a very cost effective alternative to a goods lift and have the added advantage that they can operate continuously thus giving a higher throughput.
Dimensions: Various widths, lengths and elevations available to suit
Reversible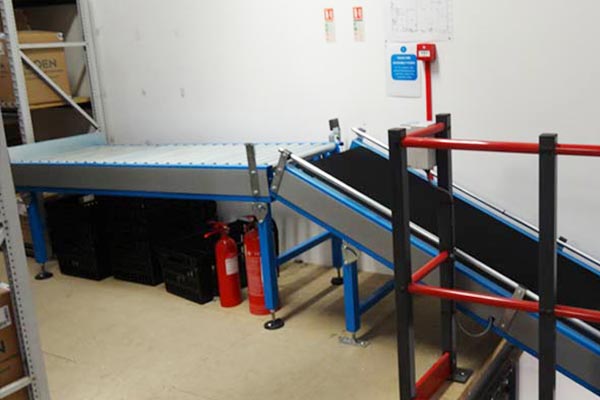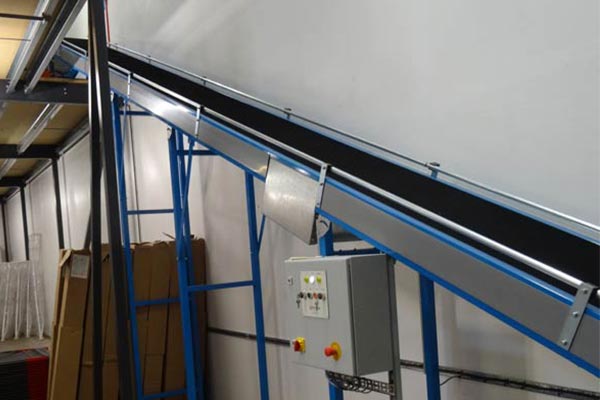 ---
Swan Neck Conveyors
Swan Neck Conveyors are essentially incline / decline belt conveyors with a horizontal section at the upper end.
They are often used a feeders for delivering loose material into a receptacle such as a hopper or silo.
The horizontal section at the top acts as a bridge over obstructions like the support structure or side frame of the receptacle.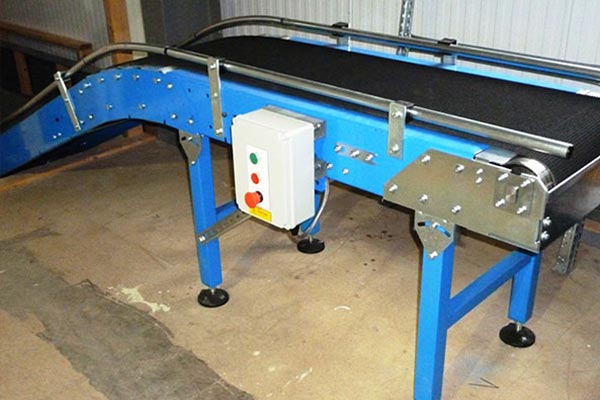 ---
Curved and Spiral Belt Conveyors
Belt bends, often called belt curves, convey products around corners while maintaining product spacing and orientation.
Spiral belt curves, as the name suggests, do the same while also changing the elevation of the product.
This can be very useful where there is limited space in a building because the footprint of a spiral belt conveyor is usually less than that of an incline/decline straight conveyor.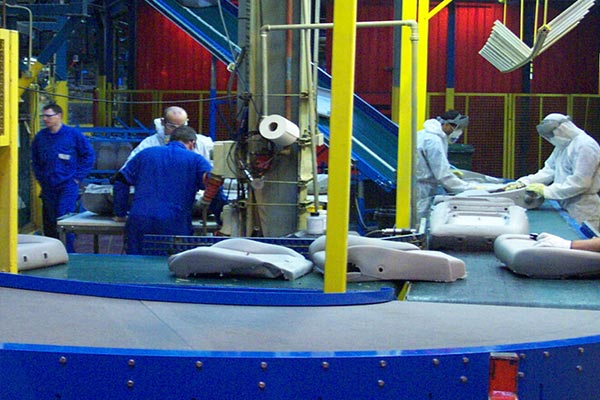 Amber Automation can supply either a standard belt curve, via the Gramac Quartz division of Amber Industries Ltd., or if none of these fits the bill a bespoke belt curve can be designed and manufactured. See our Powered Belt Curves
The great variety of applications and types of belt conveyor makes it impractical to offer a fully standardised range from which to select. Instead the collective experience and expertise of the team of engineers at Amber Automation enables it to offer a bespoke design service and then manufacture belt conveyor equipment precisely matched to our client's specific requirements.
---