The Gramac Quartz Range of Belt Curves Design Advantages, Features & Benefits
Proven Track Record
Gramac Quartz Belt Bends have a proven track record of longevity and reliable operation around the globe in a variety of environments and industries including: post and parcel handling, airport baggage handling, warehouse and distribution centres, refrigerated storage units, print and packaging, laundries, cement, plaster and building materials, horticultural and garden fertilizer and compost products and many other general manufacturing and industrial applications where changes in direction of conveyed objects are required.
Robust Design
The Gramac Quartz Belt Bends robust and patented design consists of a strong and rigid frame fabricated from steel section and plate rolled and formed to give the desired angle and radius. A stiffened smooth steel slide bed is mounted within the frame to support the belt and over which the belt slides.
Any Angle, Any Width
The most common sizes for both the TSTR100 and the TSTR150 models of Belt Bends are shown in the tables in the relevant sections of this website, however the versatility of these models means that they can be manufactured and supplied at any subtended angle between 15° and 180° and at belt width between 300mm and 1800mm.
This can be especially useful when the building into which a conveyor system has to fit is irregular in shape, as is occasionally the case with older buildings.
The photograph here actually shows a single spiral belt bend with a subtended angle of 270°.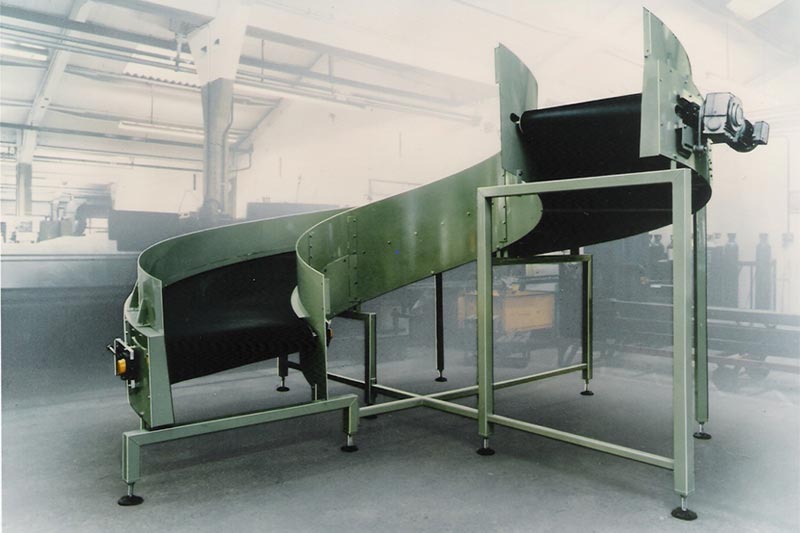 Tapered End Pulleys
Supported at each end of the curved frame by 'life greased' ball bearing units fixed to it are tapered conical pulleys manufactured in high density polypropylene on a steel shaft. These pulleys can be adjusted in the horizontal plane by tensioning devices to provide the correct amount of tension in the belt which fits over them.
Maximum Power Transmission
At one end the drive pulley is coated / lagged with a non-slip, highly wear resilient and heat resistant material which positively grips the underside of the belt. The taper of the pulley allows it to engage the belt across its full width, even at high speed, and ensures maximum power transmission from a suitably sized geared motor unit fitted to the shaft of the drive pulley. This method of driving the belt is known as 'Friction Driven'.
Maximum Operating Life, Minimum Maintenance & Noise
Some manufacturer's designs of belt bends use a roller bush type chain attached to the outside perimeter of the belt by means of punched holes through the belt and which is then driven by a sprocket either powered by directly a geared motor unit or linked to one by a toothed transmission belt or chain. This method of driving the belt is often referred to as a 'Positive Mechanical Drive'.
All Gramac Quartz Belt Bends use the 'Friction Drive' method whereby the friction between the belt and the drive pulley provides the motive force for the belt. This method has three clear advantages:
Longer Belt Life: The tensile stresses in the belt are more evenly distributed across the width of the belt thus extending the life of the belt and avoiding stress concentrations causing tears.
Lower Noise: Noise levels are kept to a minimum because of the absence moving metal parts such as chains and transmission belts/chains. The maximum running noise level for any Gramac Quartz Belt Bend is 65 dbA at 1000mm, i.e. they are very quiet items of equipment.
Minimum Maintenance: Maintenance requirements are very little and no added lubrication is required throughout the operating life of the belt bend
unlike with Positive Mechanical Drives where chains have to be regularly lubricated. The pulley bearings are greased for life and require no maintenance.
In summary, Gramac Quartz Friction Driven Belt Bends offer greater reliability and lower cost of ownership over time.
Positive Belt Tracking
With any belt bend the tendency is for the belt to displace towards the centre as it travels.
To Keep the belt running on the correct line Gramac Quartz Belt Bends use a method of positive tracking.
The belts are supplied with polyurethane tyred roller bearings fitted to the reinforced outer edge of the belt which then run on guide rails built into the outer perimeter of the steel frame.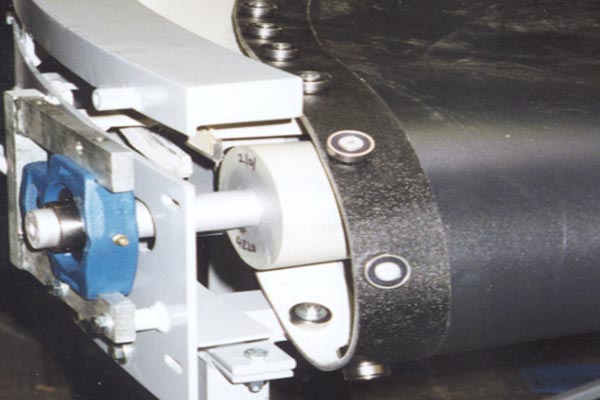 Easy Belt Tensioning & Change Out
Four 'easy to use' tensioning mechanisms are located at at each pulley end thus giving maximum flexibility to achieve the correct position of the belt on the conveyor frame with the ideal even belt tension throughout the cross section of the belt. Once a belt has run for a while, they inevitably stretch a little. Re-tensioning a belt in these circumstance is an easy job, as indeed is tensioning a new belt after installation.
Maintenance Viewing Window
Maintenance and Inspection is a key function for ensuring optimum performance of belt bends just like any other piece of equipment.
This is especially important for airport baggage handling and intralogistics system that are in use 24/7.
With those kind of operations in mind we have introduced the 'maintenance viewing window which allows the guide roller bearing to be observed for wear without having to strip down the belt curve.
Should an individual bearing be showing signs of wear or impending failure access can be gained through the window to change it, which is a much simpler and quicker operation than stripping the bend down to gain access.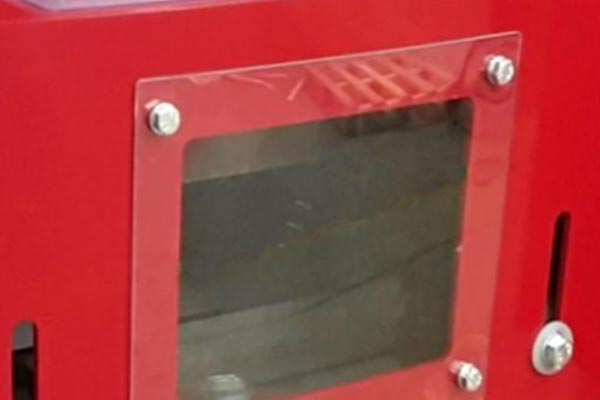 Fully Guarded
All Gramac Quartz Belt Bends are supplied with safety guards fitted to eliminate trap points and prevent inadvertent access to moving parts such as the roller guide bearings. These guards are designed to be lightweight for easy removal for maintenance purposes. Underside guarding is provided as standard.
Choice of Geared Motor
SEW Eurodrive SA47 geared motors are the standard supply, however we are able to accommodate user's preferences and fit many different makes of hollow shaft geared motors, including the latest PMM type.
Finish
Powder coated in any standard RAL or BS colour. For humid and exposed environments a galvanised finish can be applied.