Weir Valves - Overhead Conveyor
MCM Overhead Conveyors Provide a Solution for Weir Valves
When Weir Valves & Controls UK Ltd looked at improving the efficiency and handling capacity of their valve painting system, through shot blasting, a paint booth and curing oven they invited MCM Conveyors of Oldham to tender for the project.
Mr Philip Dollin of Weir Valves & Controls UK Ltd commented, "After reviewing a number of tender proposals, overhead conveyor specialist MCM Conveyors was appointed to provide a total handling solution. Apart from being competitive, MCM Conveyors clearly demonstrated that they understood our requirements and could also offer comprehensive after sales service, which we believe is essential in committing to capital investment projects."
Autotrack 500 Power & Free Solution
The system was designed to give maximum flexibility and efficiency with single products up to 2000kg. being loaded on to bespoke rotating, multi-jig flightbars, suspended from an MCM Autotrack 500 (AT500) overhead 'Power + Free' system in order to be conveyed around a circuit to designated un-load / finishing stations.
Individual Weir valves are loaded by manually operating a pendant raise/lower control to lower the carriage to an ergonomical height to allow product slings to be attached to the valve. Various data is assigned to each loadbar assembly via an electronic tag, which is used at the booth and oven areas to determine product routing, paint finish and cure times. Once the slings are safely attached and the valve masked, the operative will commence to raise the drop section carriage to a final 200mm, at which point the vertical travel will be completed automatically through a PLC that monitors all controls and movement within the system. A release button activates and frees the load bar to transport the valve to accumulate at the shot blast entrance, allowing an empty loadbar assembly to enter the load/unloading station.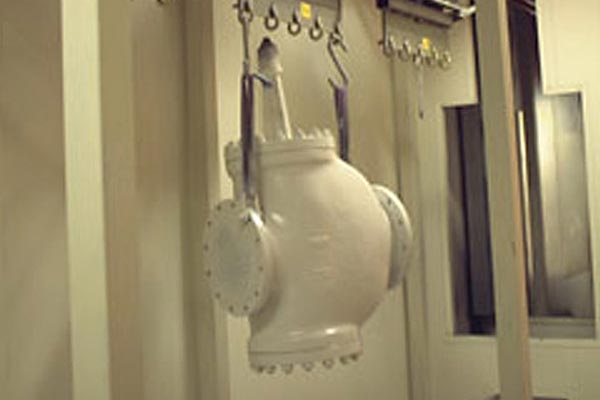 As a safety precaution, a product load gate was fitted to detect and ensure that the work envelope is not exceeded and in the case of an oversized or mis-aligned product being loaded, the conveyor will initiate an alarm and stop. The loadbar assembly enters the enclosure as and when an empty position is detected by the PLC and an operative has activated a 'product call' button. On completion of the shot blasting, a 'product release' button is activated by the shot blasting operative to automatically open the machine doors for the product to be conveyed forward to accumulate at the painting booth.
Following the same entrance procedure, once in the paint booth the multi-jig flightbar is automatically unlocked, via a push button control and allows the operative to rotate the product during painting. On completion, the flightbar is re-locked in its inline position on the MCM overhead conveyor. As a precaution, a special guide is fitted to re-orientate and lock the rotating flightbar if the operative has overlooked the procedure. However, if for any reason the flightbar is mis-aligned beyond an acceptable angle, a load gate detects the position and automatically initiates an alarm and stops the conveyor.
Utilising the Read/Write electronic tag system, the control system automatically provides operatives with process information including paint colour, number of paint coats and curing times. The Read/Write system also allows additional information to be added to individual loadbar assemblies by Weir Valves & Controls. All controls and activating buttons within the booth enclosures are intrinsically safe.
After valves leave the paint booth they accumulate in line on the MCM overhead conveyor. A switch gate detects curing times (3 or 6 hour) and sorts product to different conveying lines to pass through the oven. On leaving the oven, products are merged into one line and are either re-circulated for multi-painting or are automatically routed towards the load/unloading station to be lowered onto an awaiting pallet. The empty flightbar is then re-loaded with product to re-commence the painting cycle.
The system has now been successfully installed and is operating trouble free. Weir Valves & Controls UK reported, "MCM Conveyors worked very closely with our Project Team and we developed a good working relationship. MCM's commitment in delivering this project could not be faulted and the installation was completed on time and within budget. Once installed, MCM provided operative training for our people and highlighted basic maintenance procedures. It was important that the line offered maximum flexibility to complete valve painting to customers specific individual requirements. The system has operated successfully and reliably since installed and Weir Valves & Controls UK appointed MCM to provide an ongoing scheduled service and maintenance package. As a result of this success, and based on the above experience I would not hesitate to recommend them".