Johnston Sweepers - Overhead Conveyor
Johnston Sweepers Chooses Amber Conveyors
Johnston Sweepers has been manufacturing road sweepers in Dorking, Surrey for more than 75 years, and in that time has become one of the world market leaders in street cleansing vehicles, British designed and built. Johnston exports over 70% of its sweeper production to more than 80 countries worldwide, with exports increasing year-on-year. They are one of the market leaders in their product field with strong positions in the UK, North America, Australia and Middle East as well as other smaller countries throughout the world.
As part of a planned structured review, a new factory wing was built at their Dorking site, an £11m project consolidating all three UK manufacturing plants. The new factory aims to be the most modern sweeper manufacturing facility in Europe, with all-new technology and assembly flow lines for maximum efficiency and quality.
Forming part of this new facility, a new finishing plant was commissioned to include shot blast booths, painting booths and the latest paint application equipment, all served by an overhead conveyor system.
One major aspect of the new handling system was the ability to easily load and unload sweeper bodies, which could weigh up to 2000kg, and to be able to move them manually around the system via a series of switch junction points.
The conveyor system proposed by Amber was the ATFT500, with each master load bar connected to four trolleys to carry the sweeper body. The load bar was developed to allow the hook positions to be moved easily to suit each sweeper model.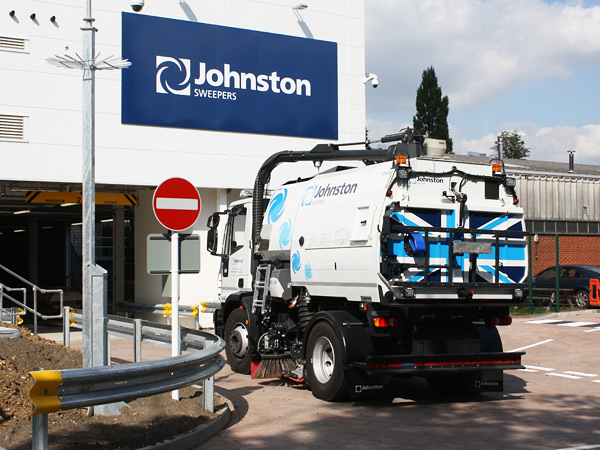 To test the ease of manoeuvrability around the facility, Amber built a test track within its factory to test the varying loads and invited the Johnston Sweepers project team to test the effort required to pull or push these loads up to the 2000kg level. This gave Johnston Sweepers the confidence that they required to move forward with the installation of the new system.
The operation proposed was relatively simple. The sweeper body would be loaded onto the system via a load drop section, where the track would then lower to allow the operator to load the unit. The sweeper body would then be pushed into one of two shot blast booths for manual blasting, before being pushed via switch points into one of four paint application booths.
Once the painting and drying operation was complete, the product would be un-loaded via an unload drop section positioned after the final booth and the empty trolley set returned, ready for a new product to enter the system.
"I was very pleased with the conveyor system installed by Amber Industries and with the professional way that they conducted themselves throughout project" said Amin Ferdowsian, Manufacturing Technology Manager at Johnston Sweepers.