Steel Slat, Modular Plastic & Wire Mesh Belt Conveyors
The moving belts of each of these categories of conveyor have properties and feature which make them suitable for particular applications. Whatever the particular application Amber Automation has a great deal of experience in designing, manufacturing and installing 'built for purpose' conveyor systems using these specialist belt types.
---
Heavy Duty Slat Conveyors
Heavy duty slat conveyors are mostly used to transport unit loads that are too heavy for traditional belt conveyors, usually at slow speeds over relatively long distances, or sometimes where the operational conditions are very arduous, such as in heat treatment plants or for high impact loading applications like scrap metal handling. They are also ideal for in-floor assembly line conveyors for the production of heavy products, for example as found in the in the automotive, construction plant, generator manufacturing industries, because they offer a continuous slow moving surface and require only minimal maintenance.
Each slat is attached to a pair of parallel roller bush transmission chains, one at each end of the slat and driven by sprockets coupled by a head shaft to a geared motor unit. Slats can be formed from different steel sections if required, e.g. flat plate, tubes, angles etc. and sometimes alternative materials can be used such as hardwood or moulded polymer. The selection of the width of the conveyor and the type of slat is determined by size, weight and the nature of the product being conveyed.
---
Slat Chain / Plate Link Conveyors
Slat chain conveyors, sometimes referred to as Plate Link conveyors are formed from a series of castellated plates (slats) rolled to form hinge points, joined together by transverse rods which pass through the hinge points. Thus the series of plates are themselves made into a chain which is also the belt of the conveyor and which broadly resembles the caterpillar tracks of an excavator. The belt is supported from underneath by sprockets which engage directly with the belt to drive it.
The slat chain / plate link belt construction can give the belt the ability to flex if the plates are joined by one hinge at the centre of their span. This provides these conveyors with the advantage of being able to gradually turn corners.
Slat chain / plate link belts can be made in mild steel which can then be surface treated by galvanising, bright zinc plating or even coating in Teflon. Stainless steel belts can also be supplied.
This type of conveyor is typically used for light to medium duty applications up to about 800mm wide and especially where there is a requirement to be able to wash down the belt.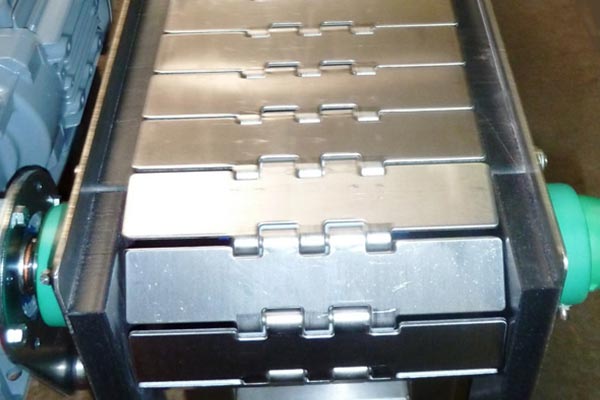 ---
Modular Plastic Belt Conveyors
Modular plastic belt conveyors are often used in the food and pharmaceutical industries because they can be washed down, however they are extremely versatile and can be suitable for a great many application. Plastic modular belts are made from small plastic sections which are hinged together with linking pins to form a belt, typically with a 'chain mail' like appearance.
The main advantage of modular plastic belts is that they allow straight lengths to be combined with a number of curves of varying radii so that several changes in direction can be made all within one continuous conveyor run. This is either too expensive or simply not possible with traditional reinforced PVC or fabric type conveyor belts. Other benefits are that they are hardwearing, capable of being used in wet environments and they are easy to repair. Should they be damaged or become worn it is a simple matter to replace a number of the plastic sections and linking pins, thereby renewing only the damaged or worn section of the belt rather than the whole belt.
One disadvantage of modular plastic belts to be aware of is that small items or loose threads and tags on the items being conveyed tend to get caught and trapped in the gaps between the plastic sections as they open and close, often with the result that they are damaged or torn off.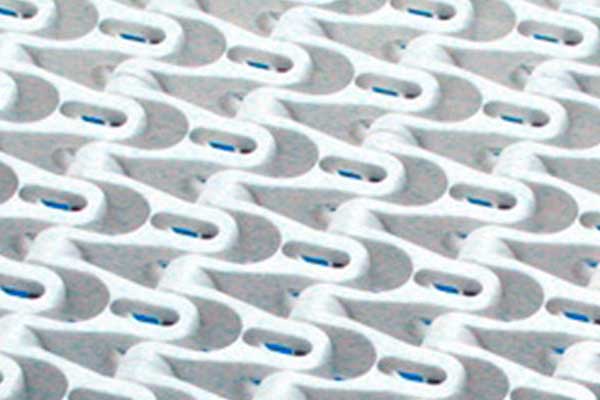 ---
There is a wide range of steel wire mesh conveyor belts available, the correct selection of which depends on the product to be handled and the process it is undergoing.
Some wire mesh belts are very tightly knit with a high mesh density and high strength to weight ratio whereas other have an open low mesh density with wide gaps and a lower load carrying capacity.
Ultimately all steel wire mesh conveyor belts are designed to allow gas and liquid to flow through and circulate around or drain from the product whilst in transit. This makes them suitable for many applications including heating, baking, cooling, annealing, washing, draining, drying, curing, to name a few.
Amber Automation's team of experienced engineers possess the knowledge to enable them to select the correct wire mesh belt for the application.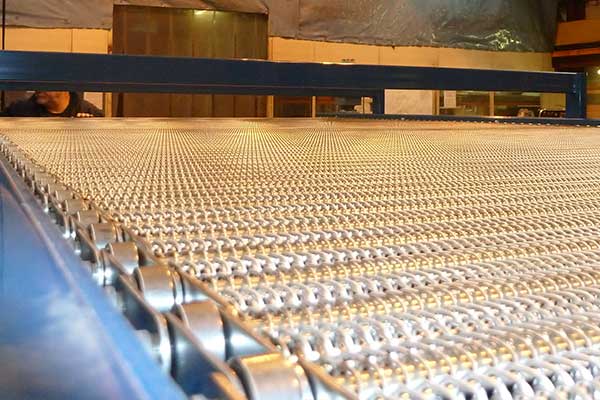 ---