Amber Automation Pallet & Heavy Duty Chain Conveyors
Chain driven roller conveyors are used for handling bulky and heavy products with flattish bottoms, such as loaded skids or large forgings or castings such as engine blocks etc. They are mainly used in warehouses and heavy good lines.
Chain Drive Live Roller Conveyors
The principle of chain driven roller conveyors is that each roller is fitted with a pair of sprockets at one of its ends. The inside and outside sprockets are alternately connected to the corresponding sprocket on the adjacent rollers by a series of link chains. The terminal roller(s) are then connected via a drive chain to a geared motor incorporating an adjustable torque limiter for safety purposes. In this way a positive mechanical drive is delivered simultaneously to all of the linked rollers, ensuring that they can't slip under load. As with the lighter duty powered roller conveyors, accumulation can be built in to this type of conveyor by creating separate zones (see ZLP above) each requiring its own motor or motorised rollerstop.
Conveyor widths: various dependent on load size
Roller diameter & pitch: typically 75mm or 90mm diameter at 125mm or 167mm
Straight conveyor lengths: up to 6m
Tapered rollers & turntables available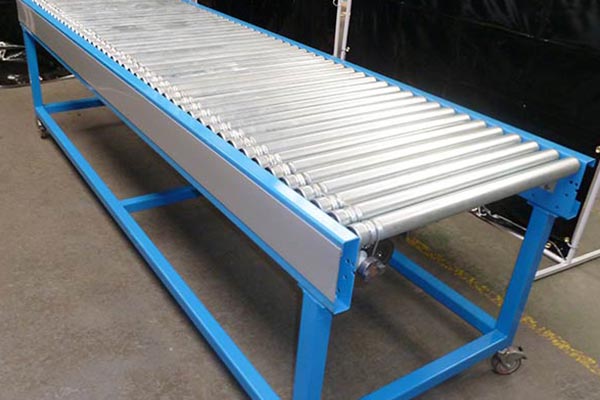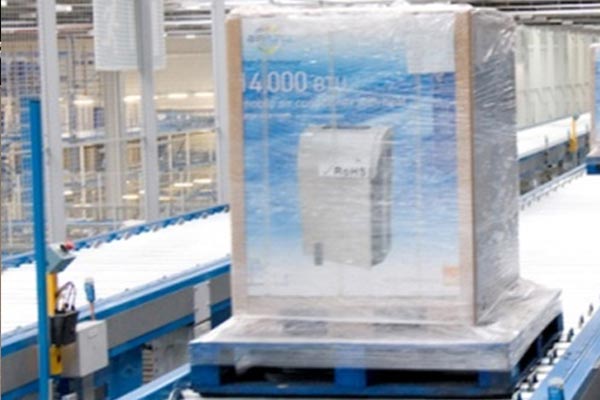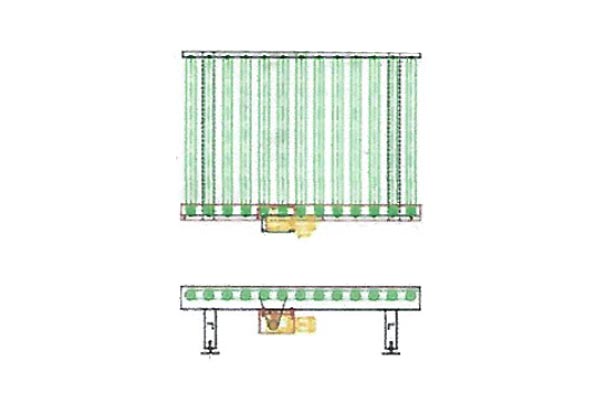 Amber Automation will design and manufacture chain drive roller conveyors with frames, widths and roller pitches and diameters specially selected for the type of load being handled. Unlike with the lighter duty powered roller conveyors the use of roller curves to change conveying direction becomes impractical as loads get heavier and so 90° transfers and turntables are used instead. Other items in the comprehensive range of ancillary equipment include shuttle cars, pallet stackers, elevators and lowerators etc.
---
Heavy Duty Chain Conveyors
Chain conveyors are comprised of 2, 3 or multiple strands of roller bush chain guided on parallel tracks.
This type of conveyor is typically used for transporting pallets or heavy loads, nominally up to 2000 Kg, where the underside surface of the load doesn't lend itself to running well on roller conveyors.
---
Cost Effective Chain Conveyors
Amber Automation's chain conveyors are a cost effective means of moving heavy loads over long distances in a straight line.
They have the added benefit of a low maintenance requirement due to few moving parts.
This characteristic, combined with their simple design and robust fabrication make them suitable for harsh environments, e.g. low temperatures.
Accumulation of product loads can be achieved with chain conveyors by aligning a series of short lengths, i.e. modules, each one forming a zone in the accumulation line.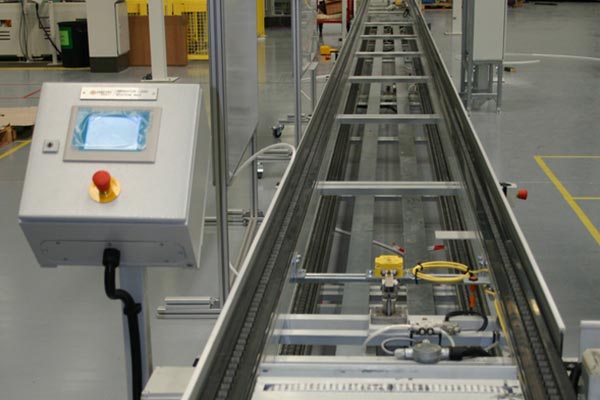 ---
Bespoke Design & Manufacture
Amber Automation can design and manufacture chain conveyors in any width to suit the items to be handled and also supply all the necessary ancillary equipment to complete a turnkey chain conveyor solution, e.g. transfers, turntables, shuttle cars, pallet stackers etc.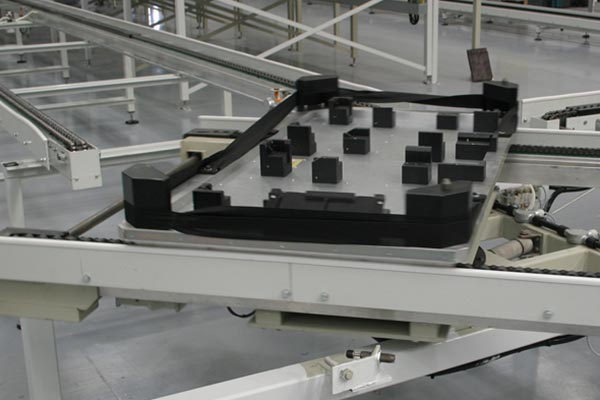 ---