Alliance Healthcare - Roller Conveyor
Amber Automation Provide a Boost for Order Picking at Unichem (Alliance Healthcare)
UniChem, a leading distributor and wholesaler of pharmaceutical, medical and health and beauty products, recently awarded Amber Industries the contract to supply and install a powered roller conveyor system in its Swansea based delivery centre to improve order picking efficiency, reduce manual handling and improve the flow of products in tote boxes through to dispatch.
With a growing demand for UniChem's high level of service, with twice daily delivery to pharmacies and dispensing doctors in the area, it was important that the system was designed to meet future handling capacities required
UniChem warehouse manager, Paul Stephens reported, "Against stiff competition, we finally selected Amber Industries because they demonstrated a clear under standing of our needs. Ambers's business-like approach and prompt response gave us confidence, as well as being supported by a competitive tender."
Utilising Amber's lineshaft modules provided a versatile and economical conveying system for handling orders collected and placed in tote boxes, providing the customer with a very cost effective and viable materials handling solution.
Kevin Moden, of Amber Industries commented, "As a conveyor manufacturer, we had the flexibility and capability to quickly respond to UniChem's requirements, providing a 'one stop service', designing, building and installing the system on time and with minimum disruption to the ongoing business."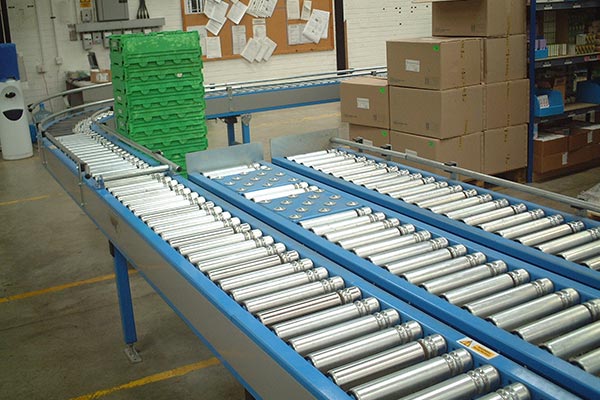 Integrating the System
The old system had to be quickly and safely stripped out between the scheduled order picking times, which took place in the morning at 8am - 11am and 2pm - 4pm, to ensure that van deliveries to UniChem customers was not disrupted. The new conveyor configuration ran parallel with three picking faces and included allocated stations for selected goods to be loaded into tote boxes.
On completion of order picking at face 1, the tote box could be manually pushed on ball transfer tables over the main conveying line, onto an adjacent lane running parallel to order picking face 2. If an order does not require product from face 2, the tote box can be released to dispatch or forwarded on the main powered central roller lane to stations on order pick face 3. On completion of order picking from face 3, the tote boxes are manually transferred onto the main delivery conveying line feeding packing stations for checking, sealing and labelling.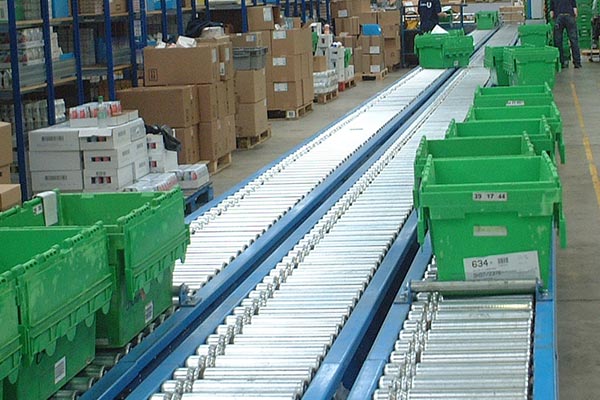 Unfortunately, the routing of the conveyor crosses a main gangway and therefore for safety reasons and access, Amber overcame this problem by designing and installing a pair of double personnel gates. These gates can be easily lifted/ lowered to provide adequate access for both personnel and pallet trucks and are slave driven from the next adjacent up-line conveyor section.
Sealed cartons are allowed to accumulate on end of line, standard gravity roller sections before being off-loaded into their specific warehouse allocations.
UniChem warehouse manager, Mr. Paul Stephens commented, "Both Amber and I worked closely to ensure that the project was completed with minimum disruption, and this was completed on time and within budget. The system has been working successfully and has given us greater handling capacity; order fulfilment is quicker and ensures we are geared to meet the ongoing increase in business".