Town and Country - Dualtrack Conveyor
MCM Dualtrack Keeps Town and Country Fires Burning
Town and Country fires manufacture a range of multifuel stoves, and other wood burning stoves which are economical and eco-friendly as well as being highly efficient. The Thurlow family-run business based out of Pickering in North Yorkshire have been manufacturing stoves since 1977.
Once farmers, the Thurlow family took the big decision to diversify and as a consequence started the stove business in 1977. Gaining a wealth of experience over the years and using a combination of old and new techniques, has led to the company developing and manufacturing some of the best, most energy efficient solid fuel and wood burning stoves in the world.
All the stoves have an air wash to the glass, which works extremely well. Most have tertiary air at the rear of the fire box too, which burns off gases at the back of the fire that do not normally ignite, thus giving a very clean burn, causing less pollution in the atmosphere.
Town and Country Fires are one of the very few stove people who actually make the stoves from start to finish. They design and perfect the combustion in the stoves, so that they out-perform some of the very best stoves across the world.
As part of the manufacturing process metal shapes which form the basis of the stoves are accurately cut with a laser cutter, and then bent prior to being welded by robot. Once the bodies have been produced in this way, they are finished by hand, which includes the application of paint.
The painting process was carried out by manually placing a stove on a trolley and wheeling this in and out of a spray booth before allowing these to air dry and was very labour intensive.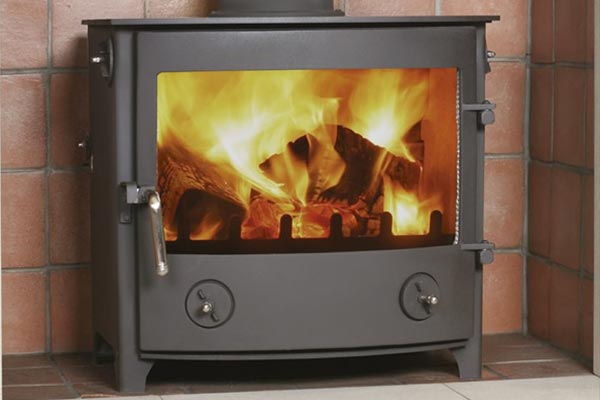 MCM were approached with the view to creating a system which would deliver product to the spray booth from the end of the production line. The product needed to rotate in front of the operator while paint was applied and remain on the system until dried. The system was required to be floor mounted like the existing trolley and any conveyor proposed would need to be highly stable.
MCM proposed a Dualtrack conveyor system which utilises a powered conveyor chain, with secondary stabilising rail therefore creating two tracks or dual tracks. The trolley running on the top track is linked to the carrying chain at the product carrying pitch giving a highly stable carrying based motion.
Additional tightening rails were incorporated within the spraybooth and at the load and unload positions.
Alan Thurlow recently stated that the system was performing very well and that the system has helped increase productivity significantly.