Greencroft Bottling - Roller Conveyor
Amber Automation Interface Conveyors Into Packaging Line at Greencroft Bottling
Leading UK manufacturer Amber Automation successfully completed the installation of a conveying system at Greencroft Bottling Co. Ltd to transfer product from a newly installed tray erector/bottle packing machine into various storage areas.
Specialists in bottling wines & spirits from around the world, the Greencroft Bottling Co had previous experience of Amber lineshaft conveyors, which continued to successfully and reliably operate within the Durham based plant. Therefore, Managing Director Mark Satchwell didn't hesitate to invite Amber Automation to tender for the project.
The contract was to supply a system to interface with automated packaging machinery, conveying complete packs from the out-feed of the inline tray erector/bottle packing machine.
On exiting onto Amber lineshaft powered roller conveyor, a pack turner re-orientates the trays through 90 degrees to continue on around a 180 degree bend and up an inclined belt conveyor to a 11m high level lineshaft conveyor.
Trays of shrink wrapped bottles are transported at height around a 90 degree bend and can continue along the new line or be transferred down onto one of two existing high level conveyors.
A declining gravity conveyor section can be manually positioned (up/down) to transfer product downwards to where a manual diverter blade merges transported goods on to one of the two existing conveyors.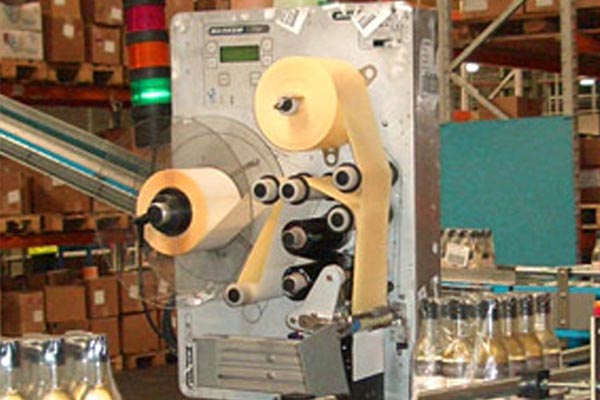 The Managing Director of Greencroft Bottling Co. Mark Satchwell reported: "The new conveyor system was part of an investment made in order to service a new contract for a well known wine company.
As we had been more than satisfied with the performance of some existing Amber lineshaft on site, we invited Amber Automation to tender for the contract that was also challenging, because it had a short delivery time.
The contract was eventually awarded to Amber Automation in January this year, based on a competitive price, past experience and the fact they are UK based. The conveyors were supplied, installed and commissioned by the 2nd March 2009. Working closely with Greencroft Bottling Co. engineers, the system was professionally installed with minimum disruption to the ongoing business and was executed on time and to budget – a good job well done!"