Drum Transferring System, incorporating Lineshaft and Powered Roller Conveyor
3rd August 2020
Lineshaft roller conveyors are powered by a shaft running longitudinally beneath the rollers to which are attached a series of spools. Polyurethane O-rings run from each spool around a groove in the rollers, thus as the shaft is rotated by an electric motor the rollers also rotate in turn pushing the product along the conveyor.
Lineshaft roller conveyors are ideal for transporting light to medium products that are regular in shape and size, fairly rigid with an even underside eg. boxes, cartons, totes, platens etc.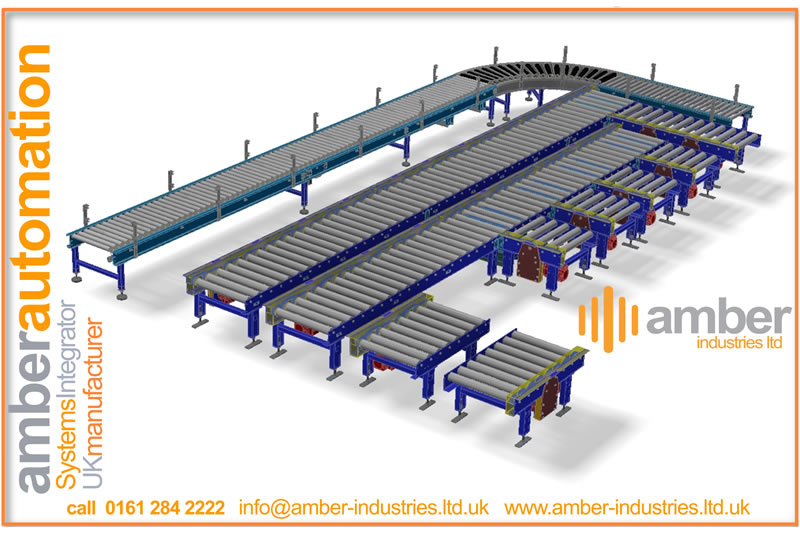 Roller conveyors make up the main part of many automated floor conveyor systems. They consist of a series of rollers over which objects are moved and they can be designed and manufactured for a great many applications at relatively low cost.
Amber Automation offers a wide range of roller conveyors including simple gravity (free roller) conveyors, lineshaft and motorised roller (zero line pressure) powered roller conveyors and chain driven live roller conveyors. All our roller conveyors come in a selection of widths, roller diameters, roller pitches and transit speeds so that they can be matched to specific load and throughput requirements.
Other Articles
4th September 2023
1st August 2023
17th July 2023
7th June 2023
4th May 2023
2nd April 2023
1st March 2023
1st February 2023
9th January 2023
9th December 2022