180 Degree Belt Curves From Amber Industries
6th February 2019
We are specialists in the design, manufacture and installation of 180 degree belt curves/belt bends for integration with conveyors, belt conveyors, warehouse logistics, box handling, baggage handling and airport systems. In the image we have a recently manufactured 180 degree belt curve ready to be installed on one of our customer projects.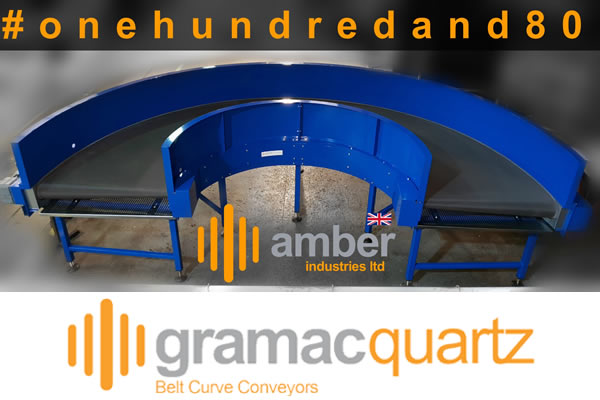 Belt Curves, Belt Turns or Powered s are generally considered to be a specialist type of belt conveyor and as such they are supplied by a specialist manufacturer. Gramac Quartz is the division of Amber Industries Ltd which has specialised for over 30 years in the manufacture of Belt Curves for many different combinations of load duty, arc and width formats. These time served belt curves are marketed under the Gramac Quartz brand name.
Gramac Quartz Friction Driven Belt Curves provide a means of quietly and smoothly changing the direction of conveyed products at high speed whilst maintaining the products spacing, orientation and alignment.
Other Articles
4th September 2023
1st August 2023
17th July 2023
7th June 2023
4th May 2023
2nd April 2023
1st March 2023
1st February 2023
9th January 2023
9th December 2022